All Purpose Safety Kits
Regular price
$79.99 CAD
Sale price
$54.99 CAD
Unit price
per
Our First Aid Safety Kit is the only one you will ever need. This all-in-one package contains 148 of the most useful and necessary first aid supplies in a small lightweight case ideal for any home or vehicle. Expertly designed and light enough to keep in your car, our kit contains everything you need in an easy-to-use package.
🎁 Comes with a bonus 
free customizable First Aid Bag! Pack what you need and take it with you! 
MADE IN CANADA

As fellow Canadians, we know the value of quality products that comply with the highest standard whether you're hiking, camping, in an office, or even just on a regular day at home. No matter what the occasion is, trust the quality of First Aid Pro's First Aid Kits!
PREMIUM HIGH QUALITY

The All Purpose First Aid Kit contains 148 pieces of comprehensive First Aid equipment, hand picked by experts in the Emergency Service Industry of over 15 years!
COMPACT & DURABLE

All 148 pieces fits inside our high quality, lightweight and water resistant case. The inside is equipped with compartments that organizes the equipment between Tools, Supplies, and Bandages. It can conveniently fit in your car, backpack, or office! The All Purpose kit comes with a carrying strap that makes it perfect for when you're on the go.
VERSATILE

First Aid Pro's All Purpose First Aid Kits comes with a free small bag that you can customize to take with you on the go! All our Kits comes with an equipment list that enables you to keep track of what's included and a link to our website for additional help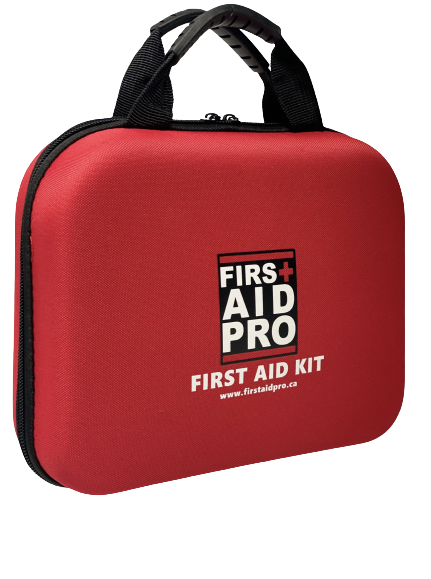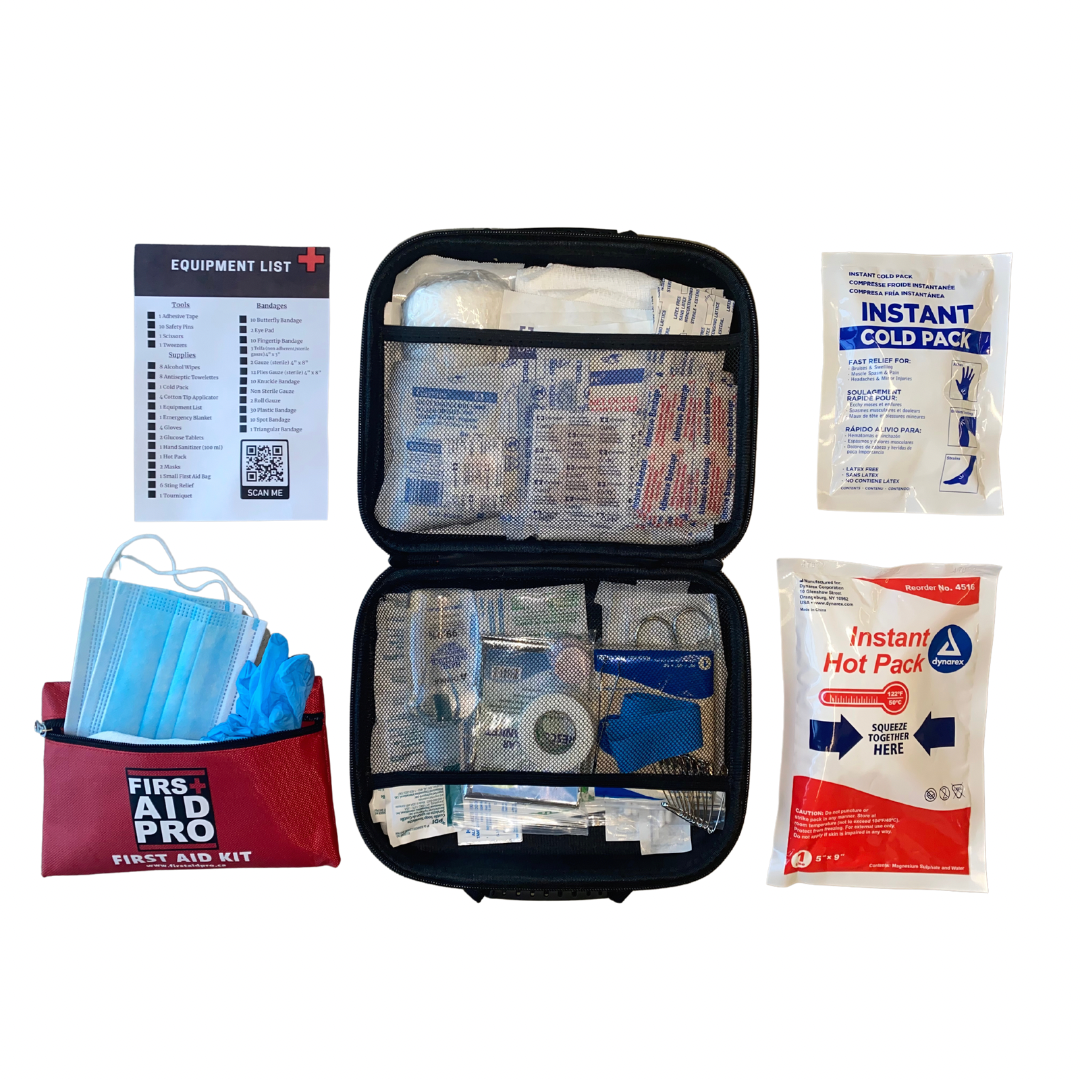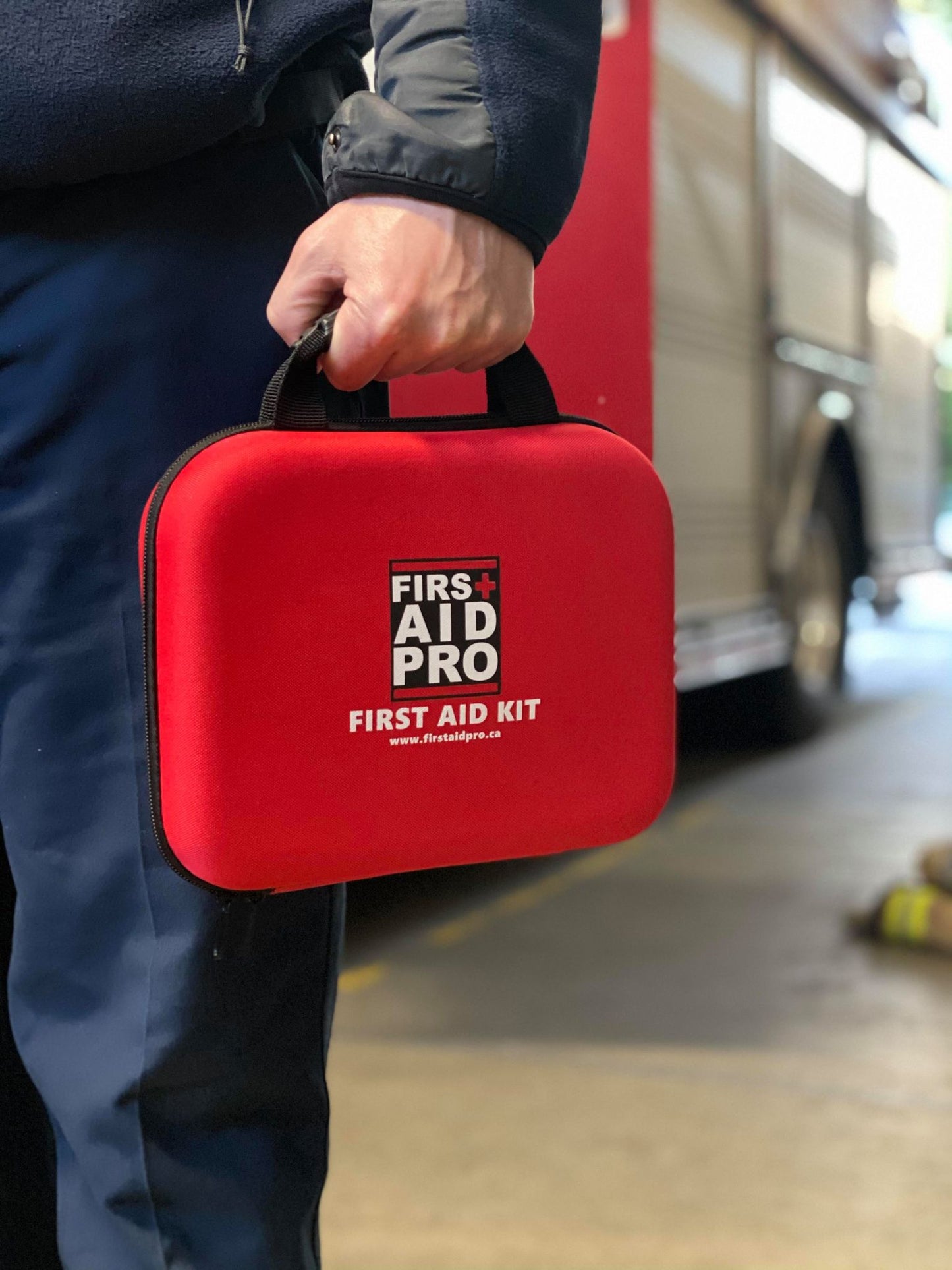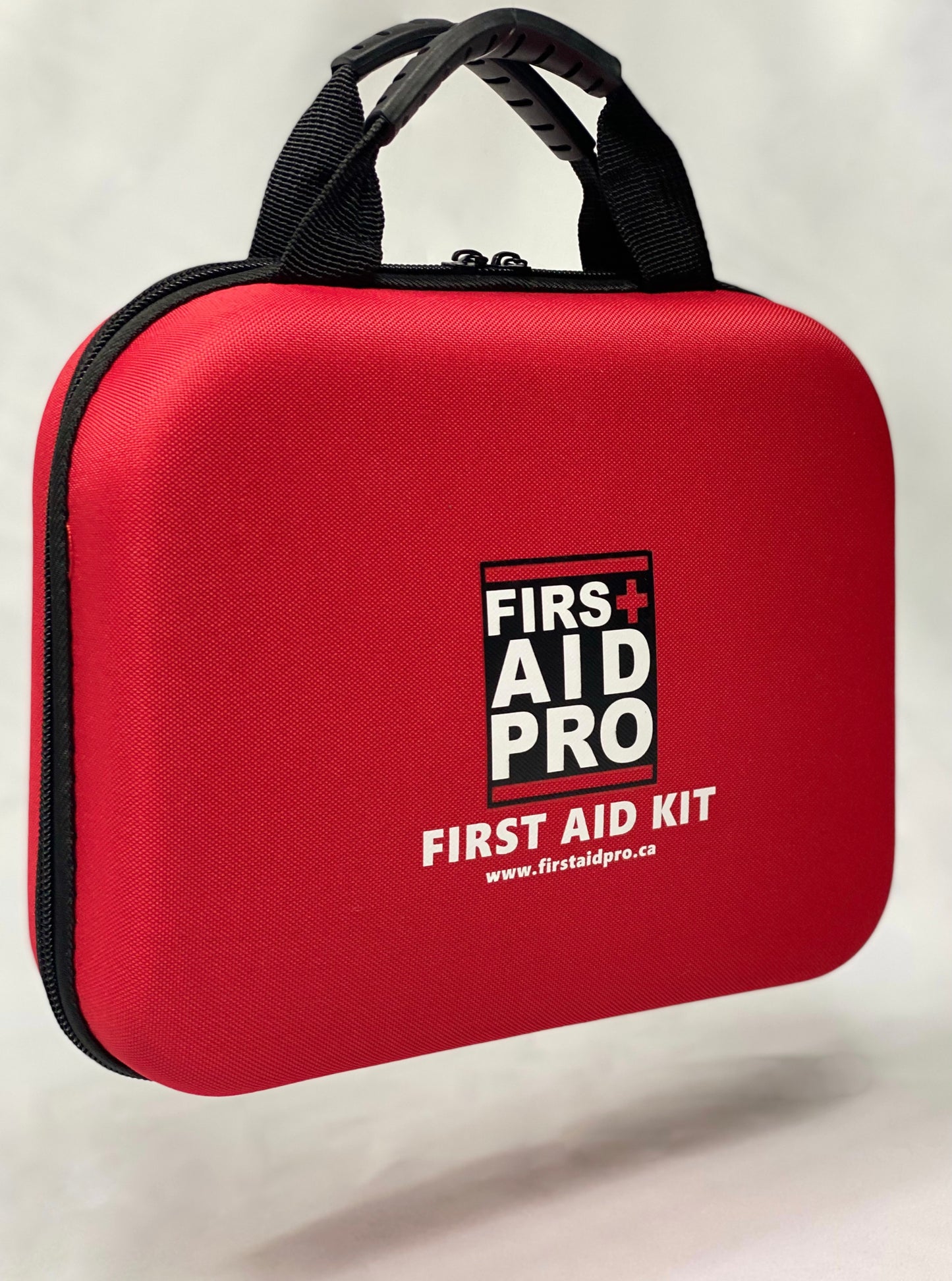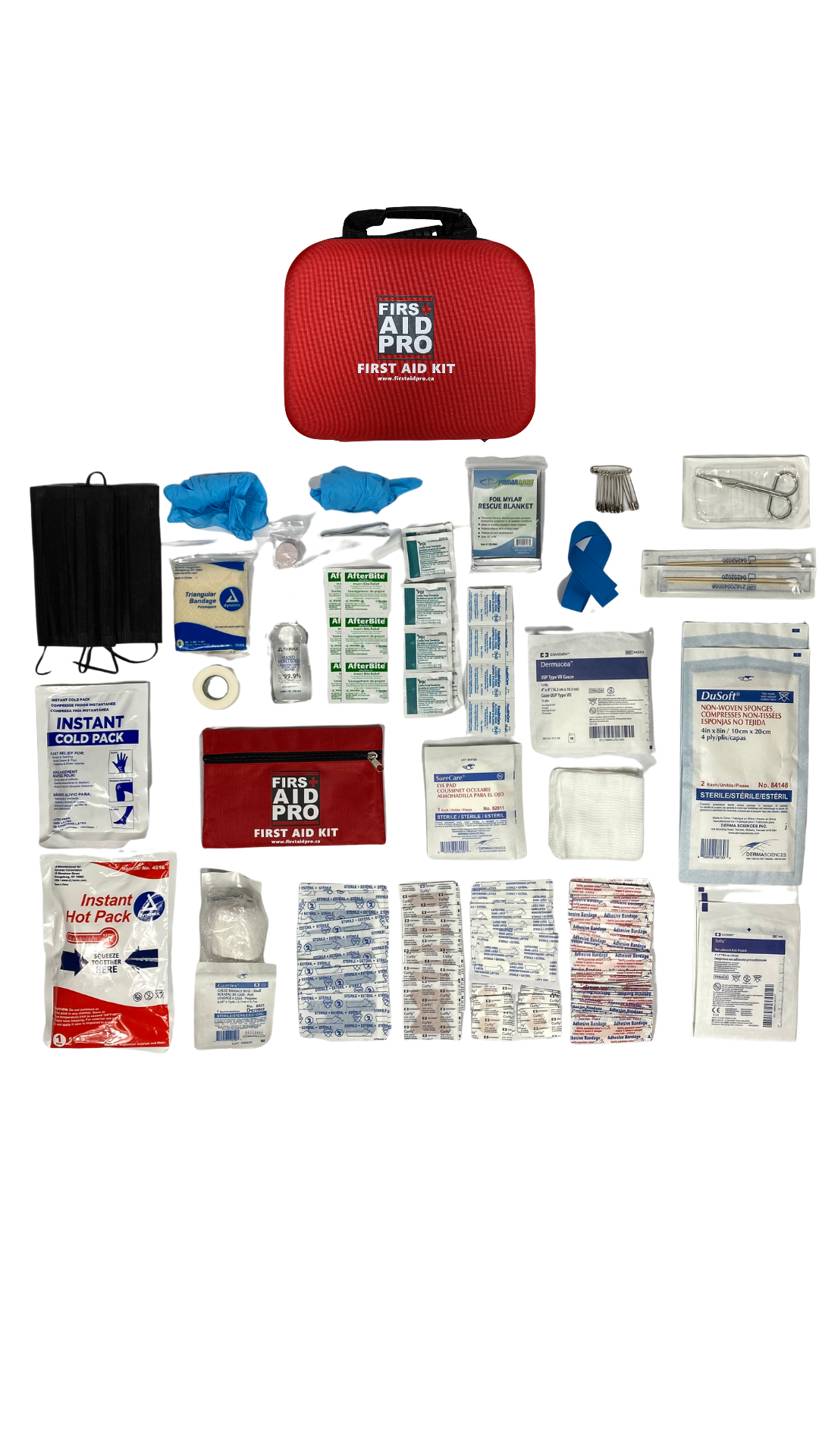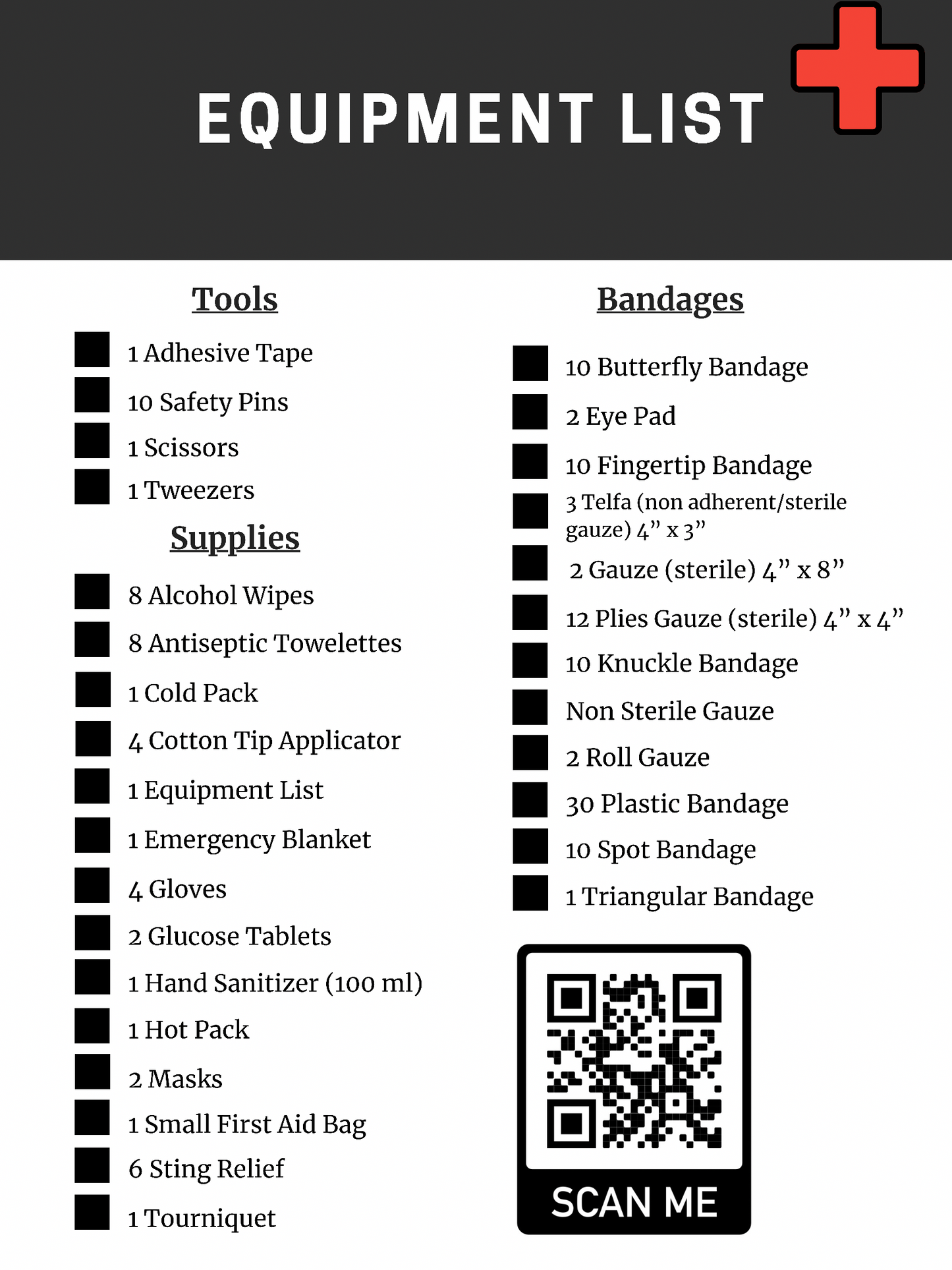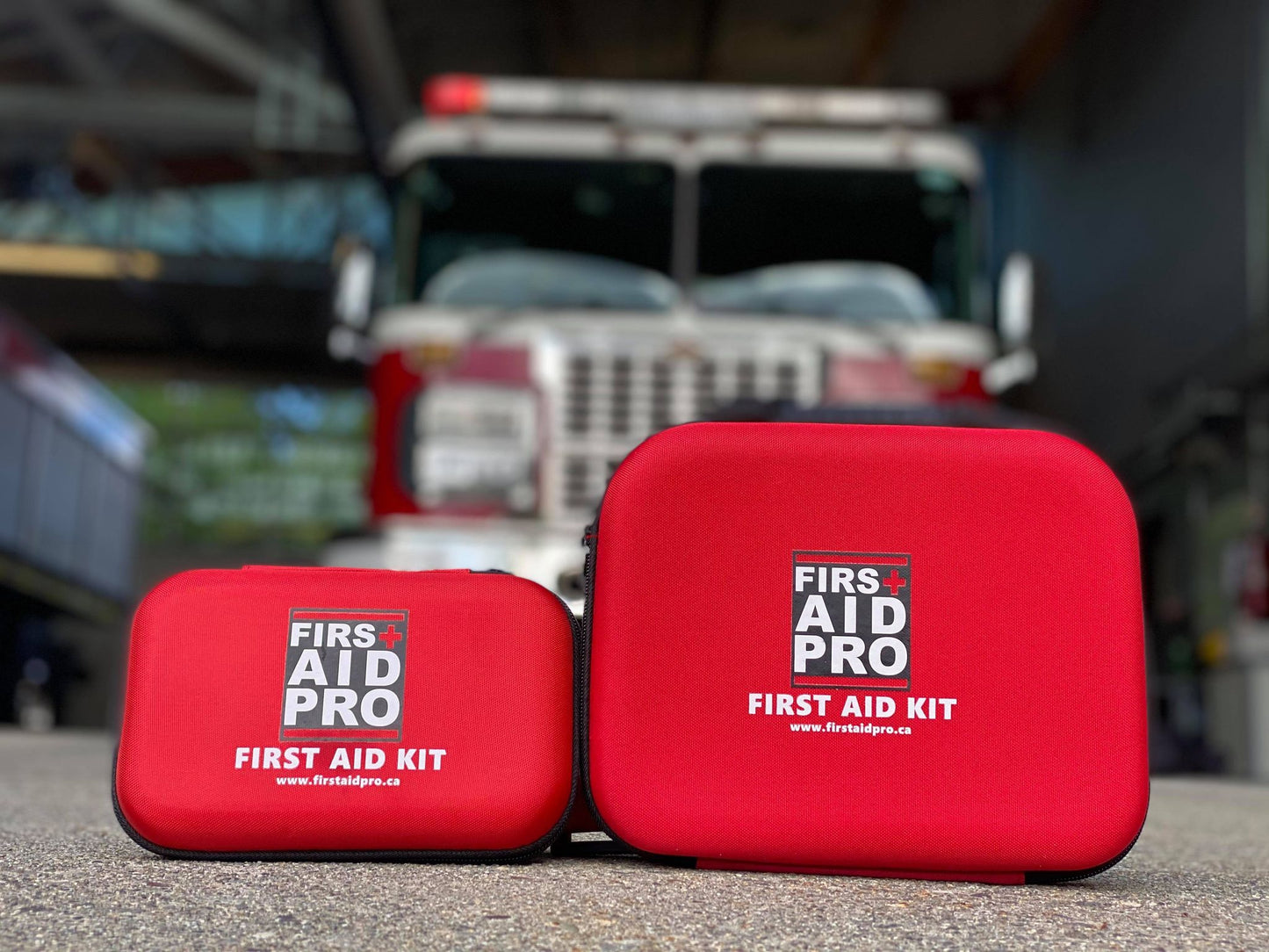 All Purpose First Aid Kit
My experience with First Aid Pro has been all positive. From my first message inquiring about the All Purpose First Aid Kit to the purchasing of the kit. The price is a great deal and definitely a must-have for everyone!
Thanks again First Aid Pro. I will be making future purchases again and recommending you to all my parent friends / groups.
Thank you!
Top Quality Kit!
I purchased the full size first aid kit after I had been meaning to have one for the car for a long time. Fantastic kit with everything you need. Also I got it the same day I ordered after a happy coincidence of a course being run close by in my neighbourhood. Now that's service! Love supporting this business and now I need to buy a travel size for daytrips and hikes!
Fantastic Kit
Got certified with First Aid Pro and during the course they showed these kits. I knew I wanted one immediately. Loved that its compact, well organized and well equipped for whatever might happen. Everything is of great quality. I highly recommended!
Amazing First Aid Kit!
This First Aid Kit comes with everything I need. I love the waterproof case and everything inside it. I highly recommend this product!!
Fantastic!
We purchased our First Aid Pro small and large first aid kits to cover all our bases on the go and at home. With two young boys we know we'll need it! I'm very happy with my purchases as the kits are great quality!